Berita
Berita Ekonomi Terkini
Artikel
Wall St falls; Dow, S&P end worst month since May 2012
January is worst month for Dow and S&P 500 since May 2012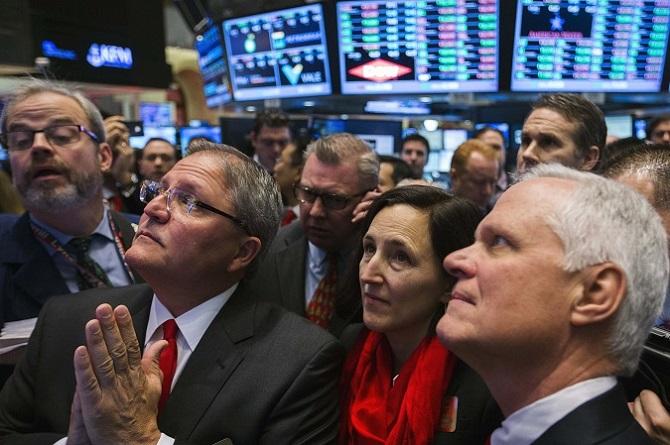 January is worst month for Dow and S&P 500 since May 2012
Reuters - A selloff in emerging markets sent a cold chill down Wall Street, triggering a slide on Friday and making January its worst month since May 2012 after one of its best years in more than a decade.
For January, the Dow tumbled 5.3 percent and the S&P 500 slid 3.6 percent - their worst monthly percentage declines since May 2012. The Nasdaq ended the month down 1.7 percent, its worst monthly percentage loss since October 2012. For the S&P 500, this marked the first time that it ended January with a loss since 2010, when the benchmark index kicked off the year with a drop of 3.7 percent.
The January loss followed the S&P 500's gain of 30 percent in 2013 - its best year since 1997.
In Friday's session, energy and consumer discretionary shares had the biggest declines of the day after disappointing earnings gave investors a reason to sell some shares. The S&P energy index ended the day down 1.5 percent. Chevron Corp was among the biggest drags on the Dow.
Trading was volatile during the session, with the Nasdaq briefly edging into positive territory and the CBOE Volatility Index - also known as the fear index - briefly turning negative.
But selling accelerated, heading into the close. The VIX shot up 6.5 percent to end Friday's session at 18.41. For January, the VIX jumped 34 percent, its biggest monthly gain since May 2012. The fear index hasn't traded above 19 since October.
"Given the concerns over the emerging markets and currencies, I think most traders are tending to close down their books so that they don't come in on Monday morning with a negative surprise," said Quincy Krosby, market strategist for Prudential Financial, which is based in Newark, New Jersey.
Global equity markets have been rattled by the outlook for emerging markets, including slower growth in China, while the Federal Reserve's decision this week to keep withdrawing its monetary stimulus added to worries.
The Dow Jones industrial average fell 149.76 points or 0.94 percent, to end at 15,698.85. The S&P 500 lost 11.60 points or 0.65 percent, to finish at 1,782.59. The Nasdaq Composite dropped 19.248 points or 0.47 percent, to close at 4,103.877.
For the week, the Dow fell 1.1 percent, the S&P 500 dipped 0.4 percent and the Nasdaq slipped 0.6 percent.
A selloff in emerging market currencies spurred some central banks to raise interest rates or intervene in markets to limit the swings, but investors worry it may not be enough to reverse the trend. The Fed's removal of stimulus added to the concerns because the extra liquidity has helped many of those markets.
Weighing on investor sentiment was data showing that inflation in the euro zone slowed this month to 0.7 percent from 0.8 percent in December. That reading confounded expectations for an increase to 0.9 percent and matched a low hit last October. The European Central Bank responded by cutting its interest rates to record lows.
Among the day's biggest decliners was Amazon.com Inc , which fell 11 percent to close at $358.69, a day after the world's biggest online retailer missed Wall Street's estimates for the crucial holiday period. Amazon also cautioned investors about a possible operating loss this quarter as shipping costs climb.
Chevron's shares dropped 4.1 percent to end at $111.63, their worst daily percentage decline since October 2012, after the second-largest U.S. oil company said its fourth-quarter profit dropped 32 percent as refining margins and production fell around the world.
On the plus side, Google Inc's shares added 4 percent to close at $1,180.97 after the company reported quarterly revenue that beat Wall Street's target despite an ongoing decline in prices for its online ads and deepening losses at Motorola, the handset-making division to be sold to China's Lenovo..
Zynga Inc shares jumped 23.6 percent to $4.40, after the video game maker said late Thursday that it will cut 15 percent of its workforce.
Pilihan Investasi di Bareksa
Klik produk untuk lihat lebih detail.
Produk Eksklusif
Harga/Unit
1 Bulan
6 Bulan
YTD
1 Tahun
3 Tahun
5 Tahun

Capital Fixed Income Fund

1.719,54

0,60%

3,30%

0,07%

7,27%

15,75%

45,19%

I-Hajj Syariah Fund

4.683,61

0,46%

3,01%

0,06%

6,69%

22,59%

40,19%

STAR Stable Income Fund

1.872,12

0,47%

2,97%

0,06%

7,26%

26,95%

62,86%

Trimegah Fixed Income Plan

Dividen

1.138,74

0,20%

0,18%

0,02%

1,47%

6,05%

-

Capital Sharia Fixed Income

Produk baru

1.016,74

0,48%

-

-

-

-

-
Produk Belum Tersedia
Ayo daftar Bareksa SBN sekarang untuk bertransaksi ketika periode pembelian dibuka.