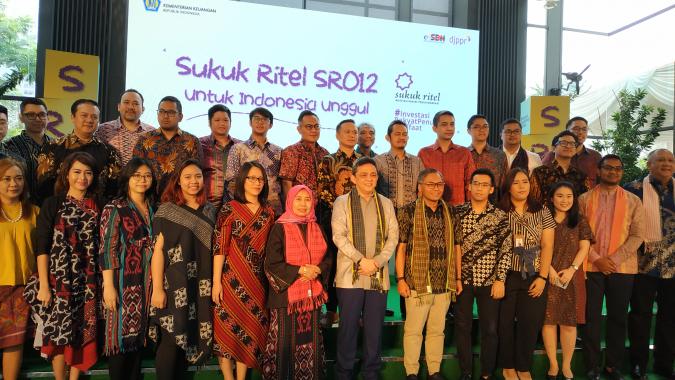 Bareksa.com - Setelah berakhirnya masa penawaran dari tanggal 24 Februari hingga 18 Maret 2020, Direktur Jenderal Pengelolaan Pembiayaan dan Risiko atas nama Menteri Keuangan (23/3/2020) menetapkan hasil penjualan Sukuk Ritel seri SR012. Total volume pemesanan pembelian SR012 yang telah ditetapkan adalah Rp12.142.572.000.000 (dua belas triliun seratus empat puluh dua miliar lima ratus tujuh puluh dua juta rupiah) .
Sukuk Negara Ritel seri SR012 ini menggunakan akad ijarah asset to be leased, dengan menggunakan barang milik negara (BMN) dan proyek APBN tahun 2020 sebagai underlying assets. Penjualan SR012 menjangkau 23.952 investor dari seluruh provinsi di Indonesia.
Beberapa catatan hasil penjualan SR012 sebagai berikut :
- Sukuk Ritel seri SR012 merupakan Sukuk Ritel pertama kali dijual secara online.
- Hasil pemesanan Rp12,14 triliun (1,59 kali) melebihi total target penjualan 28 Midis yang sebesar Rp7,66 triliun di tengah kondisi pasar keuangan yang volatile akibat wabah virus Corona melanda Indonesia dan dunia.
- Faktor positif yang mempengaruhi keberhasilan penjualan antara lain penurunan BI 7DRR, minat investor terhadap SBSN yang tinggi, strategi pemasaran yang tepat dan intensif, serta kupon yang masih cukup kompetitif.
- Rata-rata volume pemesanan SR012 sebesar Rp506,96 juta dengan tingkat keritelan yang lebih baik dibandingkan SR011(Rp602,96 juta).
- Generasi Z (di bawah 19 tahun) yang berinvestasi pada SR012 sebanyak 88 investor (Rp3,56 miliar) dengan rata-rata pembelian generasi Z Rp487 juta.
- Profesi Wiraswasta mendominasi pemesanan dari sisi jumlah investor sebanyak 7.532 investor (31,45 persen) dan dari sisi volume Rp5,57 triliun (45,89 persen).
- Proporsi jumlah investor profesi PNS/TNI/Polri pada SR012 (7,3 persen) sedikit meningkat dibandingkan pada SR011 (5,19 persen) dan ORI016 (6,27 persen).
- Wilayah Indonesia Bagian Barat (selain DKI Jakarta) mendominasi pemesanan dari sisi volume investor sebanyak 14.056 investor (58,69 persen) dan dari sisi total volume Rp6,51 triliun (53,61 persen).
- Proporsi volume pemesanan Wilayah Indonesia Tengah SR012 (10,16 persen) sedikit meningkat dibandingkan SR011 (7,55 persen) dan ORI016 (8,03 persen). Demikian juga proporsi jumlah investor Wilayah Indonesia Tengah SR012 (9,2 persen) sedikit meningkat dibandingkan SR011 (8,18 persen) dan ORI016 (7,95 persen).
- Investor milenial merupakan investor terbanyak pada SR012 yaitu 8.136 investor (33,97 persen).
- Investor baru SR012 sebanyak 9.743 investor (40,68 persen) didominasi oleh generasi milenial 3.856 investor (39,58 persen).
- Terdapat 933 investor yang membeli pada nominal Rp1 juta.
- Investor yang setia membeli SBSN online sebanyak 154 investor.
Midis dengan realisasi nominal penjualan terbesar untuk kategori bank konvensional diraih oleh PT Bank Central Asia, Tbk (Rp1,96 triliun) dan investor terbanyak (4.894 investor), kategori bank syariah diraih oleh Bank Syariah Mandiri (Rp316,9 miliar), kategori perusahaan efek diraih oleh PT Trimegah Sekuritas Indonesia, Tbk (Rp 149,3 miliar) dan kategori Fintech diraih oleh PT Bareksa Portal Investasi (Rp 18,2 miliar).
Setelmen Sukuk Negara Ritel seri SR012 akan dilaksanakan pada tanggal 26 Maret 2020 dan dicatatkan di PT. Bursa Efek Indonesia pada 27 Maret 2020. Namun karena pada Sukuk Negara Ritel seri SR012 ini ditetapkan minimum holding period sampai dengan dua periode imbalan, maka perdagangan di pasar sekunder baru dapat dilakukan pada tanggal 11 Juni 2020.
Sampai dengan Maret 2020, pemerintah telah menerbitkan sebanyak 2 Instrumen SBN Ritel (SBR009 dan SR012) dengan total nominal penerbitan mencapai Rp14,39 triliun. Penerbitan Instrumen SBN Ritel tersebut merupakan bagian dari upaya Pemerintah untuk memperdalam pasar keuangan domestik serta memperluas basis investor, khususnya investor ritel.
Pokok-pokok ketentuan dan persyaratan SR012 ialah sebagai berikut :
- Periode registrasi investor, setiap saat pada mitra distribusi yang telah ditetapkan. Masa penawaran SR012 mulai 24 Februari 2020 Pukul 09.00 WIB hingga penutupan pada 18 Maret 2020, pukul 10.00 WIB.
- Bentuk dan karakteristik Sukuk Negara, tanpa warkat, dapat diperdagangkan (tradable). Tanggal penetapan penjualan yaitu 23 Maret 2020 dan tanggal setelmen 26 Maret 2020.
- SR012 memiliki tenor 3 tahun dengan tanggal jatuh tempo pada 10 Maret 2023. Minimum pemasanan SR012 Rp1 juta dan maksimum pemesanan Rp3 miliar.
- Underlying asset SR012 ialah Barang Milik Negara (BMN) dan proyek APBN 2020. Dengan akad ijarah asset to be leased. Jenis imbalan/kupon berupa fixed coupon, pembayaran secara periodik setiap bulan. Tingkat imbalan/kupon 6,3 persen per tahun (per annum).
- Tanggal pembayaran kupon pertama kali pada 10 April 2020 (short coupon) dan tanggal pembayaran imbalan/kupon, setiap tanggal 10 setiap bulannya.
- Dalam hal tanggal pembayaran imbalan/kupon bukan pada hari kerja, maka pembayaran imbalan/kupon dilakukan pada hari kerja berikutnya tanpa kompensasi imbalan/kupon. Hari kerja adalah hari di mana operasional sistem pembayaran diselenggarakan oleh Bank Indonesia (BI).
- Minimum holding period yaitu selama 3 (tiga) kali pembayaran kupon (dapat diperdagangkan mulai tanggal 11 Juni 2020) :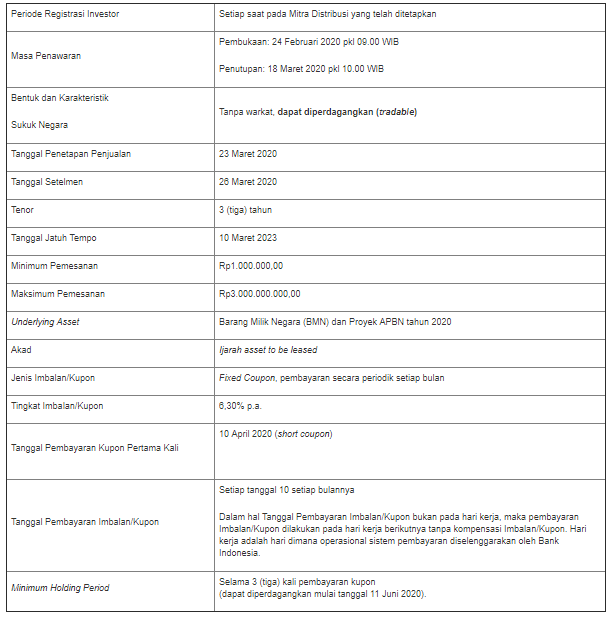 Sumber: DJPPR Kementerian Keuangan
Hingga akhir 2020, pemerintah berencana menerbitkan setidaknya 6 SBN ritel, di mana SBN ritel pertama di 2020 yakni Savings Bond Ritel seri SBR009 sudah ditawarkan pada 27 Januari hingga 13 Februari 2020 lalu.

***
Ingin berinvestasi sekaligus bantu negara?
Pemerintah membuka masa penawaran Sukuk Ritel seri SR012 mulai 24 Februari 2020 dan telah berakhir pada 18 Maret 2020. Belum memiliki akun Bareksa tetapi ingin berinvestasi SBN seri selanjutnya? Segera daftar di sbn.bareksa.com sekarang, gratis hanya dengan menyiapkan KTP dan NPWP. Baca panduannya di sini.
Bagi yang sudah pernah membeli SBR, ORI atau Sukuk di Bareksa sebelumnya, Anda bisa menggunakan akun di sbn.bareksa.com untuk memesan SBN seri berikutnya.
Bila sudah memiliki akun Bareksa untuk reksadana sebelumnya, segera lengkapi data Anda berupa NPWP dan rekening bank yang dimiliki.
Kalau belum punya NPWP, tapi mau beli SBN? Kita juga bisa meminjam NPWP punya orang tua atau suami.
PT Bareksa Portal Investasi atau bareksa.com adalah mitra distribusi resmi Kementerian Keuangan untuk penjualan Surat Berharga Negara (SBN) ritel secara online. Selain proses registrasi dan transaksi sangat cepat dan mudah, Anda juga dapat memantau investasi Anda dari mana saja dan kapan saja.